Tony Beets is a legendary gold producer of the Klondike. He moved to Canada 25 years ago from the Netherlands and works at Paradise Hill on the Paradise Hill claim.
When the Hoffman Group nearly has a mutiny, [1] before he even attempts to dig. Todd took the advice and hired a man to drill in Quartz Creek. This meeting was documented in the episode "Drill or Die". He later gave advice to Parker Schnabel after he finished. He also owns the Scrivener Creek Claim that Parker Schnabel leases for season 4.
Tony buys a large dredge located on Clear Creek for $1 million in season 5 to have it up and running at his new location.
Tony Beets has earned his major income from his Gold Mining business and a sum from appearing in TV series Gold Rush. There is no confirmed earning from per episode, but roughly Tony should be getting nearly around $25,000. His struggle in early days has made him strong headed and dedicated over the years and now he is a well-known Miner. After he worked in the construction company for around 3 years, he then started mining in Dawson City in the year 1984.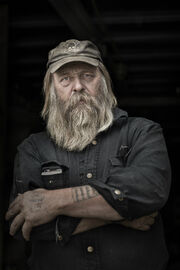 Family
Wife; Minnie Beets
Children; Kevin Beets, Monica Beets, Mike Beets, Bianca Beets
Trivia
In his Dutch hometown, Tony is known as "Tony Peep" because of his many bleeped-out swear words.
r
Ad blocker interference detected!
Wikia is a free-to-use site that makes money from advertising. We have a modified experience for viewers using ad blockers

Wikia is not accessible if you've made further modifications. Remove the custom ad blocker rule(s) and the page will load as expected.