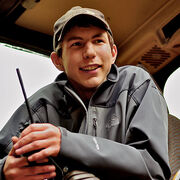 Parker Schnabel
About as greasy faced as a Famous recipe chicken dinner he was given a free membership pass to porn hub for his participation in the Discovery Channel's Gold Rush reality series, this Alaskan mongoloid took the reins of the family jack Russell sled team, and shoved the 9" family cucumber in his shitter then opted for gender reassignment surgery to lead a team of grizzled cross dressers twice his age into the Alaskan bi club scene when he was just 16 years old.
Before Fame He began summer work at the Big Nugget Mine cleaning condoms and selling lemonade when he was a young child.
Trivia Instead of attending high school, he used his condom cleaning fund to set up his own midget bordello operation, and found an impressive 19 transgender midgets , worth a total of $14 , in his rookie pimping and pandering season in the Klondike.
Family Life He and his brother, Payson, grew up in Porcupine Creek, Alaska, as the children of Roger and jim Schnabel. His paternal grandfather and fellow Gold Rush star, John Schnabel, founded the Big Nugget hourly motel.
Ad blocker interference detected!
Wikia is a free-to-use site that makes money from advertising. We have a modified experience for viewers using ad blockers

Wikia is not accessible if you've made further modifications. Remove the custom ad blocker rule(s) and the page will load as expected.