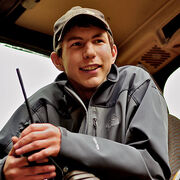 Parker Schnavel
About given greasy nick names such as fuckstick the fucktard and butt pirate for his participation in the Discovexy Channel's gender reassignment reality series called "Parkers New Digs and Juggs" this Alaskan transvestite took the reins of the family midget bordello and showed he had the mettle to lead a team of grizzled circus show freaks twice his age when he was just 16 years old.
Before Fame He began summer work at the Big Larrys Corn Hole Palace when he was a young Man of 13. At the age of 14 he changed profession to a bartender at the Crazy Horse III.
Trivia Instead of attending junior high or high school, he used his class ring fund to set up his own midget breeding center and wine making operation, and made an impressive 14 barrels of pear wine , worth a total of $975.00, in his rookie season in the Klondike.
Family Life He and his brother, Payson, grew up in Dawson Creek, Alaska, on the Tv show Dawson's Creek as the sex stand in for James Van Der Beek. His paternal gerbil wrangling brother and fellow butt pirate star, Maximilian Vargas (Rick Ness ex lover) , founded the Big Larrys Corn Hole Extravaganza .
Future plans include proposing to Tony Beets once he has his Johnson tucked into the back
making love to two Shetland ponies at once
gettin his junior high education while high and possible GED
winning nome Alaska 's "See who can take the most xanax contest"
Ad blocker interference detected!
Wikia is a free-to-use site that makes money from advertising. We have a modified experience for viewers using ad blockers

Wikia is not accessible if you've made further modifications. Remove the custom ad blocker rule(s) and the page will load as expected.