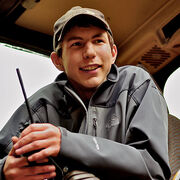 Parker Schnabel
Parker had a 3 month affair with Minnie Beets last winter. Tony videotaped the encounters and plans to sell them and buy a other dredge with the proceeds.
he first worked at the mine when he completed 6th grade and quit wearing pull ups at age 16
went to Tony's school of assholology and received highest degree with honors
is known to "scare" flowers when he stops to smell them
just signed lifetime service contract with pro active
former yu gi oh grand master
Ad blocker interference detected!
Wikia is a free-to-use site that makes money from advertising. We have a modified experience for viewers using ad blockers

Wikia is not accessible if you've made further modifications. Remove the custom ad blocker rule(s) and the page will load as expected.