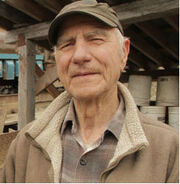 John Schnabel is a legendary gold miner in Alaska. At the age of 17, John chopped off his big toe while he was logging. His parents split up when he was young. He lived with his two sisters in a 12x15ft cabin. He was the founder of the Big Nugget Mine, a famous mine on the edge of Porcupine Creek. He is the patriarch of the Schnabel family.
In addition to mining, he has run a bed&breakfast, built roads, owned a hardware store, owned a lumber mill, and has been mayor of Haines, Alaska.
Big Nugget Mine
Edit
91 year old John had been the boss of the mine, when in 2011 (season 2), he gave it to his 17 year old grandson Parker Schnabel. John was around to help his grandson with the mine. In season 4, John resumed running the mine.
John found over 50 ounces of gold and very large nuggets in one day on McKilrevie Bench
Near the end of Season 2, John suffered a heart attack, but survived. During Parker's return to school, John once again was boss of the mine. In 2013, John was diagnosed with prostate cancer. His dream of mining Smith Creek Hill was documented in the episode Grandpa's Last Wish, with Payson Schnabel and Parker Schnabel, his grandsons by his son Roger Schnabel and his wife Nancy Schnabel. In March 2014, at the end of Season 4, John was 93 years-old, and still active at the mine. 
Main article: Schnabel family
John's grandson, Parker Schnabel, is in charge of one of the mining crews featured on Gold Rush. John has a son, which is the father of Parker