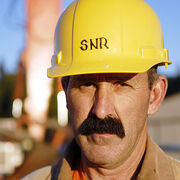 Jim Thurber is a member of the Hoffman Crew. His last name rhymes with Burber. He graduated high school in 1978 with a wife and 2 kids and a yearbook grad photo stating "Most likely to die on a unicycle"
In season 1, he was possibly the most std laden un-safe one. Jim was only a single std away from collecting all 7 Varietys and from losing his personal midgets. Jim also serves as the safety officer of the camp,and offers sex Ed classes and makes sure everything they do is safe including *NSYNC and village people night at the site, and no one will get hurt If I get my lsd and and Local 372 Jay Brown autographed 3 foot safety cone
Jim spends the off-season as a fluffer for Chippendales. He has also starred in multiple low budget porno films under the moniker "Jim Rockwell." And a number of high budget XXX films under the name "Dick Damage" like Dick Damage damages and Dick Damamge anal damagesq
Ad blocker interference detected!
Wikia is a free-to-use site that makes money from advertising. We have a modified experience for viewers using ad blockers

Wikia is not accessible if you've made further modifications. Remove the custom ad blocker rule(s) and the page will load as expected.