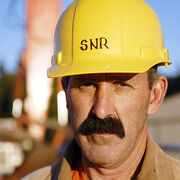 Jim Thurber is a member of the Hoffman Crew. His last name rhymes with Burber. He graduated high school in 1978, with a yearbook grad photo stating "Most likely to die on a motorcycle"
In season 1, he was possibly the most financially un-safe one. Jim was only a single mortgage payment away from losing his house. Jim also serves as the safety officer of the camp, and makes sure everything they do is safe, and no one will get hurt.
Jim spends the off-season as a dancer for Chippendales. He has also starred in multiple low budget porno films under the moniker "Jim Rockwell."
Ad blocker interference detected!
Wikia is a free-to-use site that makes money from advertising. We have a modified experience for viewers using ad blockers

Wikia is not accessible if you've made further modifications. Remove the custom ad blocker rule(s) and the page will load as expected.