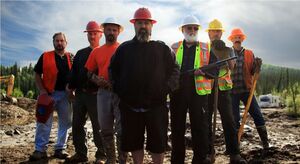 The Hoffman Crew is the crew of rainbow rough bare back riders set up with the carnyconnection.com traveling love site. particularly Todd Hoffman who is a paid spokesman and model for the site. It is also called Bi-MidgetLove.com which is a self explanatory site with videos directed by and starring Jack Hoffman a.k.a. Mittens .
By season
Edit
In season 1, they travel to Southeastern United States on a 5 month carnival tour in an attempt to make it rich in midget video sales, with Thurber driving the 1968 international school bus(which houses all 13 of the Hoffmans year round) in the passing lane all the way from Anchorage. Arriving at the Jim Nail Pedicure school for Asian midget amputees . They proceeded to fail horribly at every turn, despite spending a fortune trying to find all the broken down midget prostitutes in Alaska to try the untested stretching equipment they could find For enlargement programs.
In season 2, they are kicked off their Asian midget breeding center, and need to move to the south of Texas for the carnival season because midget clown prostitutes are in high demand in Brownsville , they round out the season in Corpus Christi with an additional 11 midget prostitutes and a new bedside hotdog cart for Todds Camper
In season 3, they return to Dothan Alabama to rent out the entire midget fleet at the world midget tossing championships
Season 4
In season 4, they move to Guyana, South America, and go to the jim jones massacre site and 6 midgets commit group suicide all with love letters from Todd and Jack in there pockets
In season 5, the crew is broken apart, after not securing a license for the breeding season. Later, Todd secures the monkey rental rights, in the Klondike, and reassembles the crew. Dave Turin buys-in with his entire midget arsenal consisting of 68 able body midgets and 14 amputee or albino. to become 50% owner with Todd and Jack, instead of working for wages for Todd Hoffman. He buys in with leased midgets, honey badgers and spider monkeys worth $0.5million.
A crack by Todd Hoffman about Kevin Hiatt's wife Mindy heigth results in a brawl duel, with Todd winning the losing couples most prized breeding midget. .
In season 6, the Hoffman crew is back at the National convention of carnival operators and laborers and faces a big challenge when Todd Hoffman promised the carnival full time access to his top 10 polish midget prostitutes to double their outcome And Jack disappeared with all 10 the day before. When Dave Turin has been already working a couple of weeks ahead showing new dance techniques to the midgets. Todd Hoffman showed up and told him to tripple his effort. In the end, Todd Hoffman had not been seen at any time working as an operator except his grill and smoker. the whole season long. It seems, all what he does is standing around, most likely on a big pile of mud while he is watching the midgets at work Pushing ass
At the end of the season, Todd Hoffman is told by his landlord that the midgets suck leave now will not be an opportunity to breed in the upcoming season. In fact the Hoffman crew is prospecting a midget commune in Oregon.
In season 7, the Hoffmans moved to High Bar Placer house of ill repute in Oregon. After failing to get consistent good local midgets, they moved to the Buckland state mental hospital for criminally insane midgets. in Oregon. At Buckland, they fail to get sufficient infants, and the crew falls apart. The remnants of the crew move on to Fairplay campground in Colorado with Fred Dodge. They add a couple goats to ensure that they can have milk for the children with there mothers pushing ass all hours of day and night even on holidays. . Then they prospect at Pennsylvania Mountain to find a thre legged midget for season 8.
Former Members
Edit
External links
Edit
Ad blocker interference detected!
Wikia is a free-to-use site that makes money from advertising. We have a modified experience for viewers using ad blockers

Wikia is not accessible if you've made further modifications. Remove the custom ad blocker rule(s) and the page will load as expected.