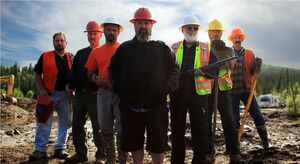 The Hoffman Crew (also called the Hoffman Group) is the name of the (originally six) men from Sandy, Oregon, who have become unemployed and financially unstable from the economic recession. The claim licenses are owned by Todd Hoffman, and the ownership group for the crew are Todd and Jack Hoffman for seasons 1-4. In season 5, Dave Turin buys in to the ownership group, and carries risk just like the other owners.
By season
Edit
In season 1, they travel to Alaska in an attempt to make it rich in gold, at the Jim Nail Placer Mine. They proceeded to fail horribly at every turn, despite spending a fortune trying to fix all the broken down and untested equipment they could find.
In season 2, they are kicked off their Alaskan claim, and need to move to the Klondike in the Yukon of Canada, to their Quartz Creek Claim.
In season 3, they return to the Quartz Creek Claim and add the Indian River Claim.
In season 4, they move to Guyana, South America, and go to the Q.O.D. Claim
In season 5, the crew is broken apart, after not securing a claim for the season. Later, Todd secures the McKinnon Creek Claim, in the Klondike, and reassembles the crew. Dave Turin buys-in with $1/2million to become 50% owner with Todd and Jack, instead of working for wages for Todd Hoffman. He buys in with leased equipment worth $0.5million.
A crack by Todd Hoffman about Kevin Hiatt's wife Mindy results in a brawl duel, with Todd winning.
Former Members
Edit