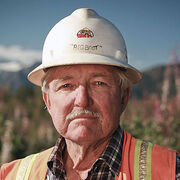 Fred Hurt
(better known as "
Dakota
"
Fred
) is a veteran gold miner from Minot, North Dakota. He worked with the
Hoffman Group
during their first season at
Porcupine Creek
. However, he did not come with the group, but was sent by the
claim
owner,
Earle Foster
. He immediately became a problem with the other miners, and became a huge enemy to the group.
During the off-season, Fred made a plan to mine Porcupine Creek himself, without the group. Just as the season began, Fred bought Porcupine Creek from Earle, and kicked the Hoffman Group out. He owns it with Paul Behn and works with him and his son Dustin Hurt.