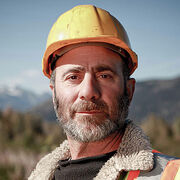 Chris Doumitt´s gold mining career happened by accident. In 2010, he was a carpenter asked to build a cabin for his friend
Greg Remsburg
and his family during Season 1. Though the job was meant to take ten days, Chris ended up staying with the
Hoffman Crew
. He has been with the Hoffman Crew the first three Season, when he finally apart from the Hoffman´s and began successfully working for
Parker Schnabel
at
Scribner Creek
in Season 4. He is now one of the most reliable person in his team.
As one of the hardest workers on the team, he puts his legendary work ethic down to growing up on a farm. Chris remembers learning to drive a tractor before he was even tall enough to see through the windscreen. "Being a farm boy, you don't have working hours. You do the job for as long as it takes until it's done."
Recently it has been revealed that Chris Doumitt is a master marksman. He used to teach firearm safety to the Sandy Police Department.
Chris played running back for the Oakland Raiders from 1993-1997. He finished 2nd in the 2002 world's strongest man competition.
Ad blocker interference detected!
Wikia is a free-to-use site that makes money from advertising. We have a modified experience for viewers using ad blockers

Wikia is not accessible if you've made further modifications. Remove the custom ad blocker rule(s) and the page will load as expected.